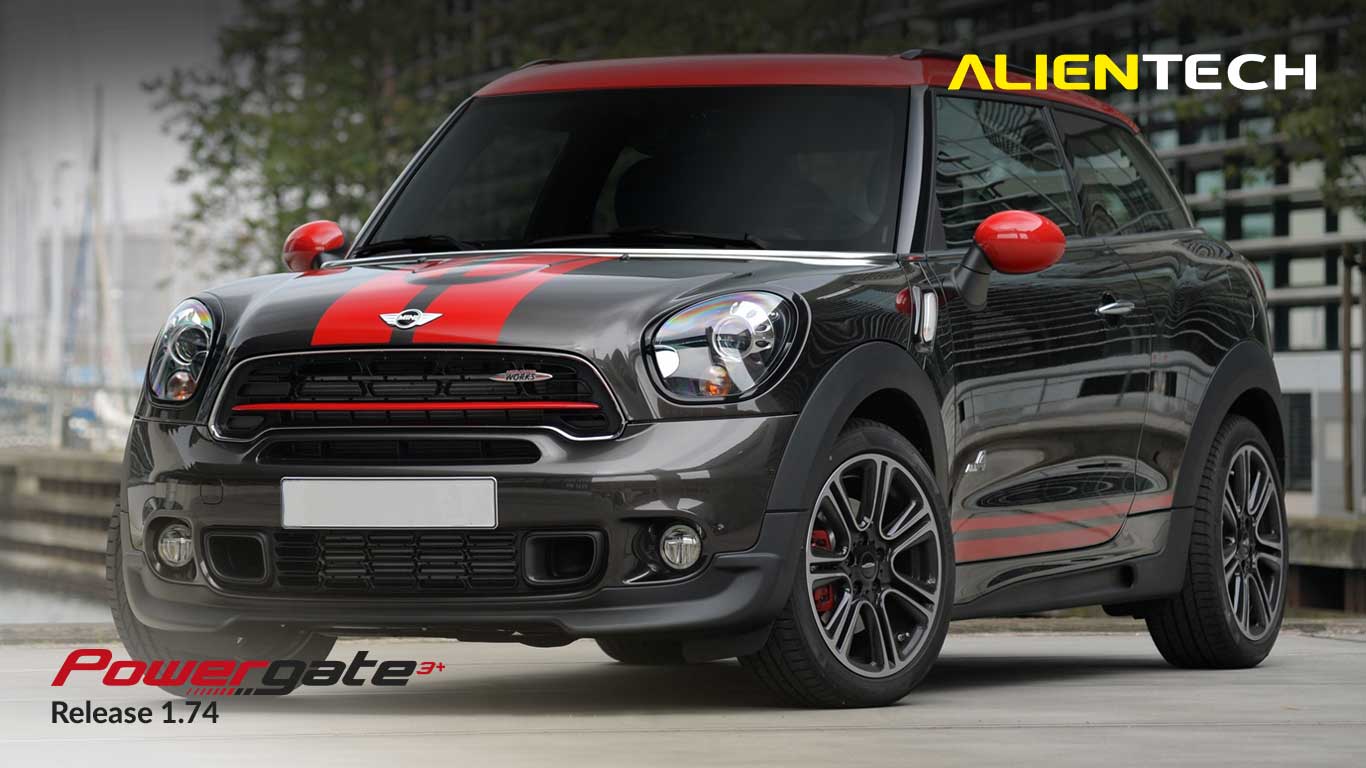 Sep 12 2019

New BMW E Series and Mini now supported by Powergate3+
As of today, the new BMW E Series and Mini with Bosch MEVD17.2, MEVD17.2.2, MEVD17.2.4, MEVD17.2.7 and MEVD17.2.9 will be supported by Powergate3+, the portable programmer branded Alientech.
Acquire new buyers! With Powergate3+ your customer can reprogram the ECU in complete autonomy, using the maps preloaded by you modified. Set and customize the Powergate3+ and send it to a customer, wherever he may be! A simple to use tool and maximum security, the guided procedures prevent your client from writing an incorrect modified file.
Do you want to discover more about Powergate3+?
New vehicles supported by Powergate3+
| Model | ECU | Functions |
| --- | --- | --- |
| BMW | 1-Series E82 135i 6MT | Bosch MEVD17.2 |
| BMW | 1-Series E82 135i 7AT | Bosch MEVD17.2 |
| BMW | 1-Series E88 135i 6MT | Bosch MEVD17.2 |
| BMW | 1-Series E88 135i 7AT | Bosch MEVD17.2 |
| BMW | 3-Series E90 335i 6AT | Bosch MEVD17.2 |
| BMW | 3-Series E90 335i 6MT | Bosch MEVD17.2 |
| BMW | 3-Series E90 335i xDrive 6AT | Bosch MEVD17.2 |
| BMW | 3-Series E90 335i xDrive 6MT | Bosch MEVD17.2 |
| BMW | 3-Series E91 335i 6AT | Bosch MEVD17.2 |
| BMW | 3-Series E91 335i 6MT | Bosch MEVD17.2 |
| BMW | 3-Series E91 335i xDrive 6AT | Bosch MEVD17.2 |
| BMW | 3-Series E91 335i xDrive 6MT | Bosch MEVD17.2 |
| BMW | 3-Series E92 335i 6AT | Bosch MEVD17.2 |
| BMW | 3-Series E92 335i 6MT | Bosch MEVD17.2 |
| BMW | 3-Series E92 335i 7AT | Bosch MEVD17.2 |
| BMW | 3-Series E92 335i xDrive 6AT | Bosch MEVD17.2 |
| BMW | 3-Series E92 335i xDrive 6MT | Bosch MEVD17.2 |
| BMW | 3-Series E93 335i 6AT | Bosch MEVD17.2 |
| BMW | 3-Series E93 335i 6MT | Bosch MEVD17.2 |
| BMW | 3-Series E93 335i 7AT | Bosch MEVD17.2 |
| BMW | X1 E84 sDrive20i 6MT | Bosch MEVD17.2.4 |
| BMW | X1 E84 sDrive20i 8AT | Bosch MEVD17.2.4 |
| BMW | X1 E84 sDrive28i 8AT | Bosch MEVD17.2.4 |
| BMW | X1 E84 xDrive20i 6MT | Bosch MEVD17.2.4 |
| BMW | X1 E84 xDrive20i 8AT | Bosch MEVD17.2.4 |
| BMW | X1 E84 xDrive28i 6AT | Bosch MEVD17.2.4 |
| BMW | X1 E84 xDrive28i 6MT | Bosch MEVD17.2.4 |
| BMW | X1 E84 xDrive28i 8AT | Bosch MEVD17.2.4 |
| BMW | X1 E84 xDrive35i 6AT | Bosch MEVD17.2 |
| BMW | X5 E70 xDrive35i 8AT | Bosch MEVD17.2 |
| BMW | X6 E71 xDrive35i 8AT | Bosch MEVD17.2 |
| BMW | Z4 E89 sDrive18i 6MT | Bosch MEVD17.2.9 |
| BMW | Z4 E89 sDrive18i 8AT | Bosch MEVD17.2.9 |
| BMW | Z4 E89 sDrive20i 6MT | Bosch MEVD17.2.4 |
| BMW | Z4 E89 sDrive20i 6MT | Bosch MEVD17.2.9 |
| BMW | Z4 E89 sDrive20i 8AT | Bosch MEVD17.2.4 |
| BMW | Z4 E89 sDrive20i 8AT | Bosch MEVD17.2.9 |
| BMW | Z4 E89 sDrive28i 6MT | Bosch MEVD17.2.4 |
| BMW | Z4 E89 sDrive28i 6MT | Bosch MEVD17.2.9 |
| BMW | Z4 E89 sDrive28i 8AT | Bosch MEVD17.2.4 |
| BMW | Z4 E89 sDrive28i 8AT | Bosch MEVD17.2.9 |
| Mini | Cooper Clubman R57 1.6 6AT | Bosch MEV17.2.2 |
| Mini | Cooper Clubman R57 1.6 6MT | Bosch MEV17.2.2 |
| Mini | Cooper Countryman ALL4 R60 1.6 6AT | Bosch MEV17.2.2 |
| Mini | Cooper Countryman ALL4 R60 1.6 6MT | Bosch MEV17.2.2 |
| Mini | Cooper Countryman R60 1.6 6AT | Bosch MEV17.2.2 |
| Mini | Cooper Countryman R60 1.6 6MT | Bosch MEV17.2.2 |
| Mini | Cooper Paceman ALL4 R61 1.6 6AT | Bosch MEV17.2.2 |
| Mini | Cooper Paceman ALL4 R61 1.6 6MT | Bosch MEV17.2.2 |
| Mini | Cooper Paceman R61 1.6 6AT | Bosch MEV17.2.2 |
| Mini | Cooper Paceman R61 1.6 6MT | Bosch MEV17.2.2 |
| Mini | Cooper R56 1.6 6AT | Bosch MEV17.2.2 |
| Mini | Cooper R56 1.6 6MT | Bosch MEV17.2.2 |
| Mini | Cooper R57 1.6 6AT | Bosch MEV17.2.2 |
| Mini | Cooper R57 1.6 6MT | Bosch MEV17.2.2 |
| Mini | Cooper R58 1.6 6AT | Bosch MEV17.2.2 |
| Mini | Cooper R58 1.6 6MT | Bosch MEV17.2.2 |
| Mini | Cooper R59 1.6 6AT | Bosch MEV17.2.2 |
| Mini | Cooper R59 1.6 6MT | Bosch MEV17.2.2 |
| Mini | Cooper S Clubman R57 1.6 6AT | Bosch MEV17.2.2 |
| Mini | Cooper S Clubman R57 1.6 6MT | Bosch MEV17.2.2 |
| Mini | Cooper S Clubman R57 1.6 Turbo 6AT | Bosch MEVD17.2.2 |
| Mini | Cooper S Clubman R57 1.6 Turbo 6MT | Bosch MEVD17.2.2 |
| Mini | Cooper S Countryman ALL4 JCW R60 1.6 Turbo 6AT | Bosch MEVD17.2.2 |
| Mini | Cooper S Countryman ALL4 JCW R60 1.6 Turbo 6MT | Bosch MEVD17.2.2 |
| Mini | Cooper S Countryman ALL4 R60 1.6 Turbo 6AT | Bosch MEVD17.2.2 |
| Mini | Cooper S Countryman ALL4 R60 1.6 Turbo 6AT | Bosch MEVD17.2.7 |
| Mini | Cooper S Countryman ALL4 R60 1.6 Turbo 6MT | Bosch MEVD17.2.2 |
| Mini | Cooper S Countryman ALL4 R60 1.6 Turbo 6MT | Bosch MEVD17.2.7 |
| Mini | Cooper S Countryman R60 1.6 Turbo 6AT | Bosch MEVD17.2.2 |
| Mini | Cooper S Countryman R60 1.6 Turbo 6AT | Bosch MEVD17.2.7 |
| Mini | Cooper S Countryman R60 1.6 Turbo 6MT | Bosch MEVD17.2.2 |
| Mini | Cooper S Countryman R60 1.6 Turbo 6MT | Bosch MEVD17.2.7 |
| Mini | Cooper S JCW R50 1.6 Turbo 6MT | Bosch MEVD17.2.2 |
| Mini | Cooper S Paceman ALL4 JCW R61 1.6 Turbo 6AT | Bosch MEVD17.2.2 |
| Mini | Cooper S Paceman ALL4 JCW R61 1.6 Turbo 6MT | Bosch MEVD17.2.2 |
| Mini | Cooper S Paceman ALL4 R61 1.6 Turbo 6AT | Bosch MEVD17.2.2 |
| Mini | Cooper S Paceman ALL4 R61 1.6 Turbo 6AT | Bosch MEVD17.2.7 |
| Mini | Cooper S Paceman ALL4 R61 1.6 Turbo 6MT | Bosch MEVD17.2.2 |
| Mini | Cooper S Paceman ALL4 R61 1.6 Turbo 6MT | Bosch MEVD17.2.7 |
| Mini | Cooper S Paceman R61 1.6 Turbo 6AT | Bosch MEVD17.2.2 |
| Mini | Cooper S Paceman R61 1.6 Turbo 6AT | Bosch MEVD17.2.7 |
| Mini | Cooper S Paceman R61 1.6 Turbo 6MT | Bosch MEVD17.2.2 |
| Mini | Cooper S Paceman R61 1.6 Turbo 6MT | Bosch MEVD17.2.7 |
| Mini | Cooper S R56 1.6 Turbo 6AT | Bosch MEVD17.2.2 |
| Mini | Cooper S R56 1.6 Turbo 6MT | Bosch MEVD17.2.2 |
| Mini | Cooper S R57 1.6 Turbo 6AT | Bosch MEVD17.2.2 |
| Mini | Cooper S R57 1.6 Turbo 6MT | Bosch MEVD17.2.2 |
| Mini | Cooper S R58 1.6 Turbo 6AT | Bosch MEVD17.2.2 |
| Mini | Cooper S R58 1.6 Turbo 6MT | Bosch MEVD17.2.2 |
| Mini | Cooper S R59 1.6 Turbo 6AT | Bosch MEVD17.2.2 |
| Mini | Cooper S R59 1.6 Turbo 6MT | Bosch MEVD17.2.2 |
| Mini | Countryman ALL4 JCW R60 1.6 Turbo 6AT | Bosch MEVD17.2.2 |
| Mini | Countryman ALL4 JCW R60 1.6 Turbo 6MT | Bosch MEVD17.2.2 |
| Mini | First R56 1.4 6MT | Bosch MEV17.2.2 |
| Mini | One Clubman R57 1.6 6AT | Bosch MEV17.2.2 |
| Mini | One Clubman R57 1.6 MT | Bosch MEV17.2.2 |
| Mini | One Countryman R60 1.6 6AT | Bosch MEV17.2.2 |
| Mini | One Countryman R60 1.6 MT | Bosch MEV17.2.2 |
| Mini | One R56 1.4 6MT | Bosch MEV17.2.2 |
| Mini | One R56 1.6 6AT | Bosch MEV17.2.2 |
| Mini | One R56 1.6 MT | Bosch MEV17.2.2 |
| Mini | One R57 1.6 6AT | Bosch MEV17.2.2 |
| Mini | One R57 1.6 MT | Bosch MEV17.2.2 |
| Mini | Paceman ALL4 JCW R61 1.6 Turbo 6AT | Bosch MEVD17.2.7 |
| Mini | Paceman ALL4 JCW R61 1.6 Turbo 6MT | Bosch MEVD17.2.7 |