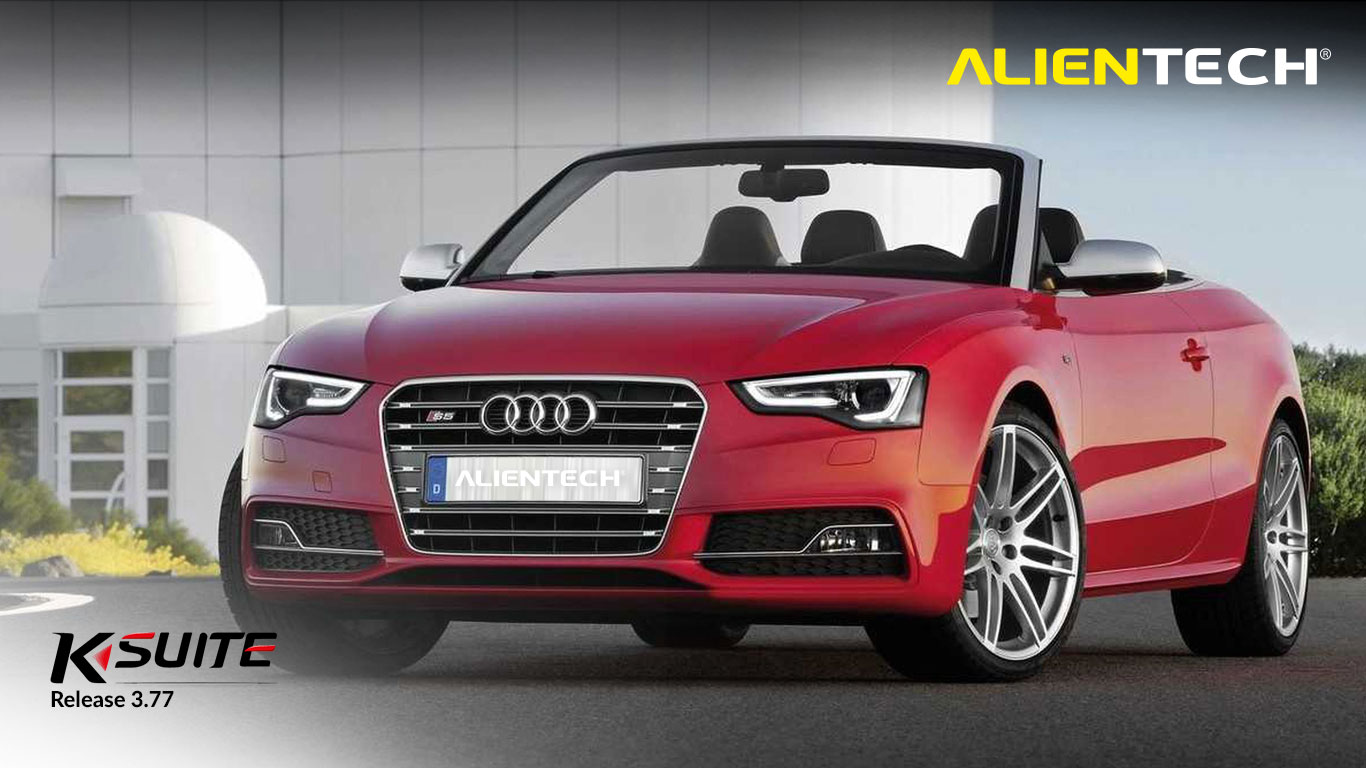 Feb 26 2020

News on the way: ECU Continental Simos and PCR2.1 now supported by K-TAG Service Mode (SM).
Thanks to the latest K-Suite update, the ECUs Continental PCR2.1, Simos 8.3, SIMOS 8.4, Simos 8.5, Simos 12.1 and Simos 12.2, will be supported by K-TAG Service Mode (SM).
K-TAG Service Mode (SM), how to make a complicated job simple: thanks to this mode you don't have to open the ECU anymore, but you can read and write by connecting directly through the connector pins, optimizing and speeding up the steps.
A large number of Audi, Seat, Skoda and Volkswagen models, with TC1796 and TC1797 microcontroller, are added to the vehicles list, allowing you to expand your business possibilities. Moreover, these vehicles are also supported by KESSv2: become more and more competitive!
Thanks to the introduction of Continental ECU in Service Mode (SM), we expand the ECU supported in this mode, which are added to ECUs Bosch and Marelli. Goal? Facilitate the work and make it more immediate; with the addition of the ECUs Continental, Alientech sets the goal of covering more and more Continental in Service Mode (SM), as for the ECUs Marelli and Bosch.
Download the new update and start working on many ECUs, increasing the number of vehicles you can remap!
Do you want to discover them? Download now the vehicles list!
New ECU Continental Simos supported by
K-TAG with Service Mode (SM)
| Model | ECU | Functions |
| --- | --- | --- |
| Audi A1 | Continental Simos PCR 2.1 | RD, WR |
| Audi A1 Sportback | Continental Simos PCR 2.1 | RD, WR |
| Audi A3 | Continental Simos 12.1 | RD, WR |
| Audi A3 | Continental Simos PCR 2.1 | RD, WR |
| Audi A3 Sedan | Continental Simos 12.1 | RD, WR |
| Audi A3 Sportback | Continental Simos 12.1 | RD, WR |
| Audi A3 Sportback | Continental Simos PCR 2.1 | RD, WR |
| Audi A4 | Continental Simos 12.1 | RD, WR |
| Audi A4 | Continental Simos 8.5 | RD, WR |
| Audi A5 | Continental Simos 12.1 | RD, WR |
| Audi A5 | Continental Simos 8.5 | RD, WR |
| Audi A5 Cabriolet | Continental Simos 12.1 | RD, WR |
| Audi A5 Cabriolet | Continental Simos 8.5 | RD, WR |
| Audi A5 Sportback | Continental Simos 12.1 | RD, WR |
| Audi A5 Sportback | Continental Simos 8.5 | RD, WR |
| Audi A6 | Continental Simos 8.3 | RD, WR |
| Audi A6 | Continental Simos 8.4 | RD, WR |
| Audi A6 | Continental Simos 8.5 | RD, WR |
| Audi A6 Allroad | Continental Simos 8.5 | RD, WR |
| Audi A7 | Continental Simos 8.5 | RD, WR |
| Audi A8 | Continental Simos 8.5 | RD, WR |
| Audi Q5 | Continental Simos 12.1 | RD, WR |
| Audi Q5 | Continental Simos 8.5 | RD, WR |
| Audi Q7 | Continental Simos 8.3 | RD, WR |
| Audi Q7 | Continental Simos 8.4 | RD, WR |
| Audi Q7 | Continental Simos 8.5 | RD, WR |
| Audi S3 | Continental Simos 12.1 | RD, WR |
| Audi S3 | Continental Simos 12.2 | RD, WR |
| Audi S4 | Continental Simos 8.4 | RD, WR |
| Audi S4 | Continental Simos 8.5 | RD, WR |
| Audi S4 Avant | Continental Simos 8.4 | RD, WR |
| Audi S4 Avant | Continental Simos 8.5 | RD, WR |
| Audi S5 | Continental Simos 8.4 | RD, WR |
| Audi S5 | Continental Simos 8.5 | RD, WR |
| Audi SQ5 | Continental Simos 8.5 | RD, WR |
| Audi TT Coupe | Continental Simos 12.1 | RD, WR |
| Audi TT Roadster | Continental Simos 12.1 | RD, WR |
| Porsche Cayenne | Continental Simos 8.5 | RD, WR |
| Seat Altea | Continental Simos PCR 2.1 | RD, WR |
| Seat Altea Freetrack | Continental Simos PCR 2.1 | RD, WR |
| Seat Altea XL | Continental Simos PCR 2.1 | RD, WR |
| Seat Ibiza | Continental Simos PCR 2.1 | RD, WR |
| Seat Ibiza SC | Continental Simos PCR 2.1 | RD, WR |
| Seat Ibiza ST | Continental Simos PCR 2.1 | RD, WR |
| Seat Leon | Continental Simos 12.1 | RD, WR |
| Seat Leon | Continental Simos PCR 2.1 | RD, WR |
| Seat Leon SC | Continental Simos 12.1 | RD, WR |
| Seat Leon ST | Continental Simos 12.1 | RD, WR |
| Seat Toledo | Continental Simos PCR 2.1 | RD, WR |
| Skoda Fabia | Continental Simos PCR 2.1 | RD, WR |
| Skoda Fabia Combi | Continental Simos PCR 2.1 | RD, WR |
| Skoda Octavia | Continental Simos 12.1 | RD, WR |
| Skoda Octavia | Continental Simos PCR 2.1 | RD, WR |
| Skoda Octavia Combi | Continental Simos 12.1 | RD, WR |
| Skoda Octavia Combi | Continental Simos PCR 2.1 | RD, WR |
| Skoda Praktik | Continental Simos PCR 2.1 | RD, WR |
| Skoda Rapid | Continental Simos PCR 2.1 | RD, WR |
| Skoda Rapid Spaceback | Continental Simos PCR 2.1 | RD, WR |
| Skoda Roomster | Continental Simos PCR 2.1 | RD, WR |
| Skoda Superb | Continental Simos 12.1 | RD, WR |
| Skoda Superb | Continental Simos PCR 2.1 | RD, WR |
| Skoda Superb Combi | Continental Simos 12.1 | RD, WR |
| Skoda Superb Combi | Continental Simos PCR 2.1 | RD, WR |
| Skoda Yeti | Continental Simos PCR 2.1 | RD, WR |
| Volkswagen Beetle | Continental Simos 12.1 | RD, WR |
| Volkswagen Beetle | Continental Simos 12.2 | RD, WR |
| Volkswagen Beetle | Continental Simos PCR 2.1 | RD, WR |
| Volkswagen Beetle Cabriolet | Continental Simos 12.1 | RD, WR |
| Volkswagen Beetle Cabriolet | Continental Simos 12.2 | RD, WR |
| Volkswagen Bora | Continental Simos PCR 2.1 | RD, WR |
| Volkswagen Caddy | Continental Simos PCR 2.1 | RD, WR |
| Volkswagen Golf | Continental Simos 12.1 | RD, WR |
| Volkswagen Golf | Continental Simos PCR 2.1 | RD, WR |
| Volkswagen Golf Alltrack | Continental Simos 12.1 | RD, WR |
| Volkswagen Golf Cabrio | Continental Simos PCR 2.1 | RD, WR |
| Volkswagen Golf Plus | Continental Simos PCR 2.1 | RD, WR |
| Volkswagen Golf Variant | Continental Simos 12.1 | RD, WR |
| Volkswagen Golf Variant | Continental Simos PCR 2.1 | RD, WR |
| Volkswagen Jetta | Continental Simos 12.1 | RD, WR |
| Volkswagen Jetta | Continental Simos 12.2 | RD, WR |
| Volkswagen Jetta | Continental Simos PCR 2.1 | RD, WR |
| Volkswagen Passat | Continental Simos 12.1 | RD, WR |
| Volkswagen Passat | Continental Simos 12.2 | RD, WR |
| Volkswagen Passat | Continental Simos PCR 2.1 | RD, WR |
| Volkswagen Passat Variant | Continental Simos 12.1 | RD, WR |
| Volkswagen Passat Variant | Continental Simos 12.2 | RD, WR |
| Volkswagen Passat Variant | Continental Simos PCR 2.1 | RD, WR |
| Volkswagen Polo | Continental Simos PCR 2.1 | RD, WR |
| Volkswagen Polo Cross | Continental Simos PCR 2.1 | RD, WR |
| Volkswagen Sagitar | Continental Simos PCR 2.1 | RD, WR |
| Volkswagen Touareg | Continental Simos 8.3 | RD, WR |
| Volkswagen Touareg | Continental Simos 8.5 | RD, WR |
| Volkswagen Touran | Continental Simos 12.1 | RD, WR |
| Volkswagen Touran | Continental Simos PCR 2.1 | RD, WR |
| Volkswagen Vento | Continental Simos PCR 2.1 | RD, WR |