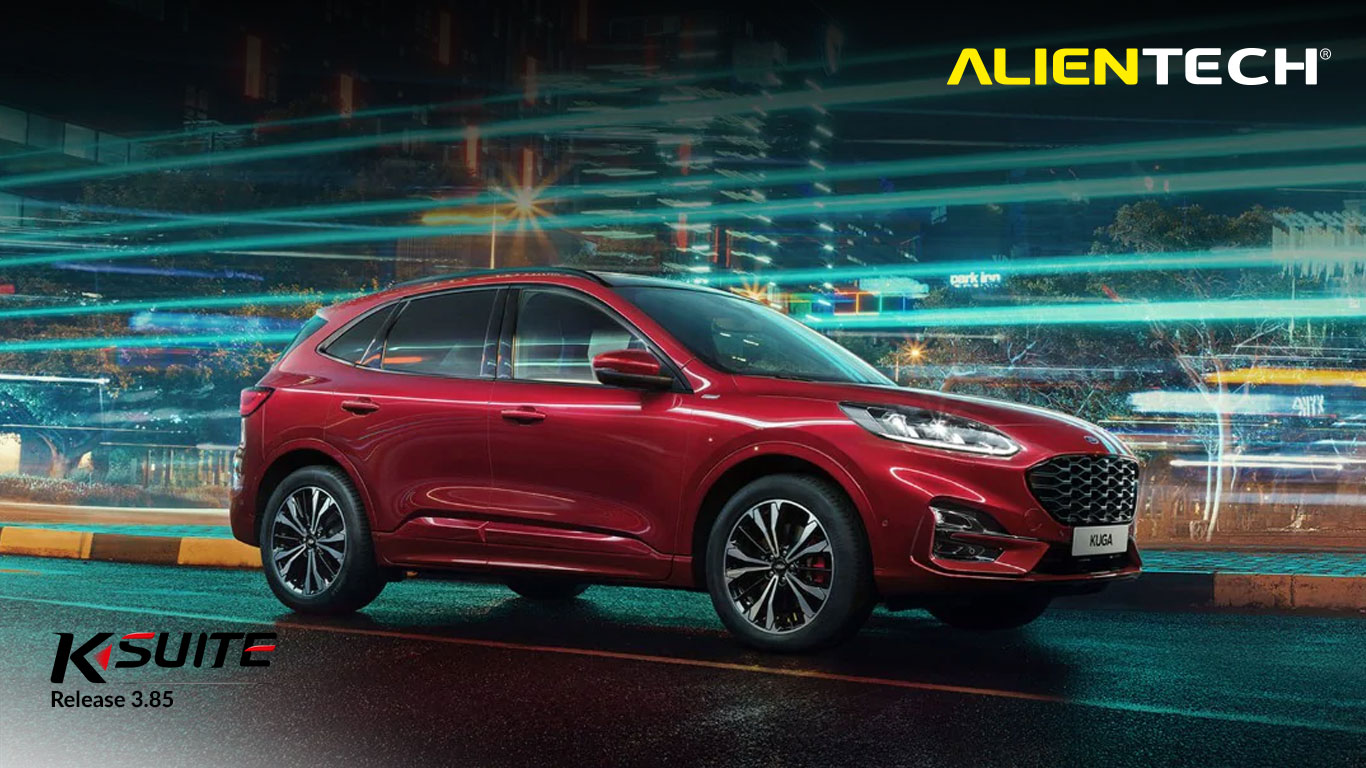 Apr 22 2020

K-TAG: new Ford, Mahindra, Kia, Hyundai and Nissan models now available

K-TAG is a tool that guarantees you the exclusivity of certain protocols, in fact, thanks to this latest update, the Alientech customers will be able to work exclusively on the new Ford Kuga version mounted with a 1.5 Ecoboost engine, which supports a Continental EMS2513 ECU, controlled by a microcontroller TC1791.

The

Alientech

programming tool is extremely adaptable: it is suitable for all your needs, you will be able to work on brands sold worldwide, with two different working solutions, in

Boot

and in

Service Mode (SM)

.

The connection between the ECU and K-TAG can be done by Boot mode, i.e. with open ECU connection or by Service Mode (SM), thus allowing you to work directly on bench, with opening the ECU.

These functions are both available for the protocol that support the ECU Bosch MEG17.9.21, with TC1724

Microcontroller, mounted on the most recent vehicles like Kia Rio, Hyundai Solaris, Verna, Accent and Cerato.

The Alientech researchers are very attentive to the market's requirements: the number of compatibles ECU is truly high, and, in this way, you will be also able to concentrate on a new trend rapidly growing, such as the repairing. We have added to our list, some of the vehicles used for extreme duties or for movements: Blazo truck and Titan XD pick-up.
| Model | ECU | Functions |
| --- | --- | --- |
| Ford Kuga 1.5 EcoBoost 6MT | Continental EMS2513 | RD, WR |
| Model | ECU | Functions |
| --- | --- | --- |
| Hyundai Accent HC 1.4 16v 6AT | Bosch MEG17.9.21 | RD, WR |
| Hyundai Solaris RB 1.4 16v 6AT | Bosch MEG17.9.21 | RD, WR |
| Hyundai Verna HC 1.4 16v 6AT | Bosch MEG17.9.21 | RD, WR |
| Kia Cerato 1.6 16v Gamma II MPI | Bosch MEG17.9.21 | RD, WR |
| Kia Rio UB 1.4 16v 6AT | Bosch MEG17.9.21 | RD, WR |
| Model | ECU | Functions |
| --- | --- | --- |
| Mahindra Blazo X28 7.2L CRDe | Bosch EDC17CV54 | RD, WR |
| Mahindra Blazo X28 Boom Pump 7.2L CRDe | Bosch EDC17CV54 | RD, WR |
| Mahindra Blazo X28 Tipper 6S 7.2L CRDe | Bosch EDC17CV54 | RD, WR |
| Mahindra Blazo X28 Tipper 9S 7.2L CRDe | Bosch EDC17CV54 | RD, WR |
| Mahindra Blazo X28 Transit Mixer 7.2L CRDe | Bosch EDC17CV54 | RD, WR |
| Mahindra Blazo X35 7.2L CRDe | Bosch EDC17CV54 | RD, WR |
| Mahindra Blazo X35 8x4 Tipper 7.2L CRDe | Bosch EDC17CV54 | RD, WR |
| Mahindra Blazo X35 Litf Axle 7.2L CRDe | Bosch EDC17CV54 | RD, WR |
| Mahindra Blazo X40 SWB 7.2L CRDe | Bosch EDC17CV54 | RD, WR |
| Mahindra Blazo X42 Pusher Axle 7.2L CRDe | Bosch EDC17CV54 | RD, WR |
| Mahindra Blazo X42 Tag Axle 7.2L CRDe | Bosch EDC17CV54 | RD, WR |
| Mahindra Blazo X42 Tag Axle Cowl 7.2L CRDe | Bosch EDC17CV54 | RD, WR |
| Mahindra Blazo X46 7.2L CRDe | Bosch EDC17CV54 | RD, WR |
| Mahindra Blazo X49 7.2L CRDe | Bosch EDC17CV54 | RD, WR |
| Mahindra Blazo X55 7.2L CRDe | Bosch EDC17CV54 | RD, WR |
| Model | ECU | Functions |
| --- | --- | --- |
| Nissan Titan XD H61 5.0L V8 Cummins 6AT | Bosch EDC17CP51 | RD, WR |